New BNL headquarter
in Rome Via Tiburtina
An innovative zero-impact ecosustainable structure The project building is a linear structure of 300 meters, on the external limit of the bridge structure of the new station in a highly dynamic area. It will become an element of great visibility strategically vehiculating the image of the group and transmitting also outside a strong ever changing message thanks to its "skin".
The identity of the whole building, spaces, structures and façades reflects the values of the group, especially its commitment to adopt transparent behaviours and safeguard nature. Besides defining the external structure, façades also serve as a tool showing the liveliness and the internal dynamics of the building just like Creativity. It is an open mobile structure for events and its external "skin" can change according to the messages that are to be transmitted to the city.
The natural areas inside the building and on the roof testify the Group's strong commitment to environmental sustainability and are important in an area lacking in parks and gardens. Several solutions have been adopted such as the vegetation on the roof and façades to isolate and purify air, a ventilated external double skin, vent chimneys to reduce the use of artificial air conditioning, stocking and reuse of meteoric waters, photovoltaic installations on the roof.
Therefore, the building can adjust to the environmental parameters and reduce the energy consumption satisfying also some of its energy requirements thanks to the building solutions implemented and the use of renewable sources.
{slider Bioclimatic Feature|closed}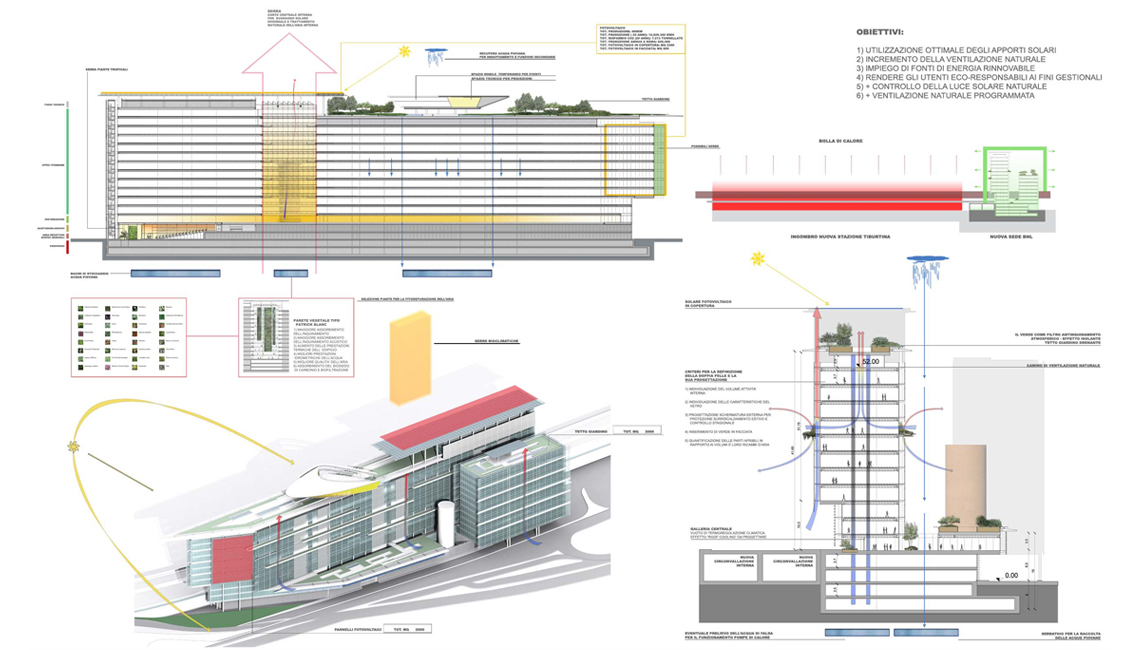 {/sliders}