Refurbishing BNL headquarter
in Rome Via dell'Arte and Piazza Albania
The projects for refurbishing IMI's former premises in Via dell'Arte and the buildings in Piazza Albania are two further proposals drafted for the new headquarters in Rome of BNP Paribas BNL.
Again in this case, the model of the outside walls is based on the same communication philosophy used in the first project in Via C. Colombo, to be found later in the Via Tiburtina premses- Transparency and design, indeed, characterise the identity of the Group, that is strongly highlighted.
Furthermore, in Via dell'Arte the position of the existing congress hall outside the building has enabled the internal spaces of the storeys to be distributed better and optimised, so that they are now intended for office use.
With its optimised pierced openings, the double skin ensures correct management of the lighting and natural ventilation of the building.
Lastly, the outfitted roof garden brings the whole work together.
In Piazza Albania the old complex of small buildings is replaced by a an office building broken down into several different blocks organised longitudinally along the road.
The complex includes a set of functions such as branches open to the public at street level, restaurants, services, a conference hall, offices with over 3'000 workstations and a management area.
The roof gardens provide great visual continuity with the green areas of the Aventino hill behind them.
{slider Bioclimatic Feature|closed}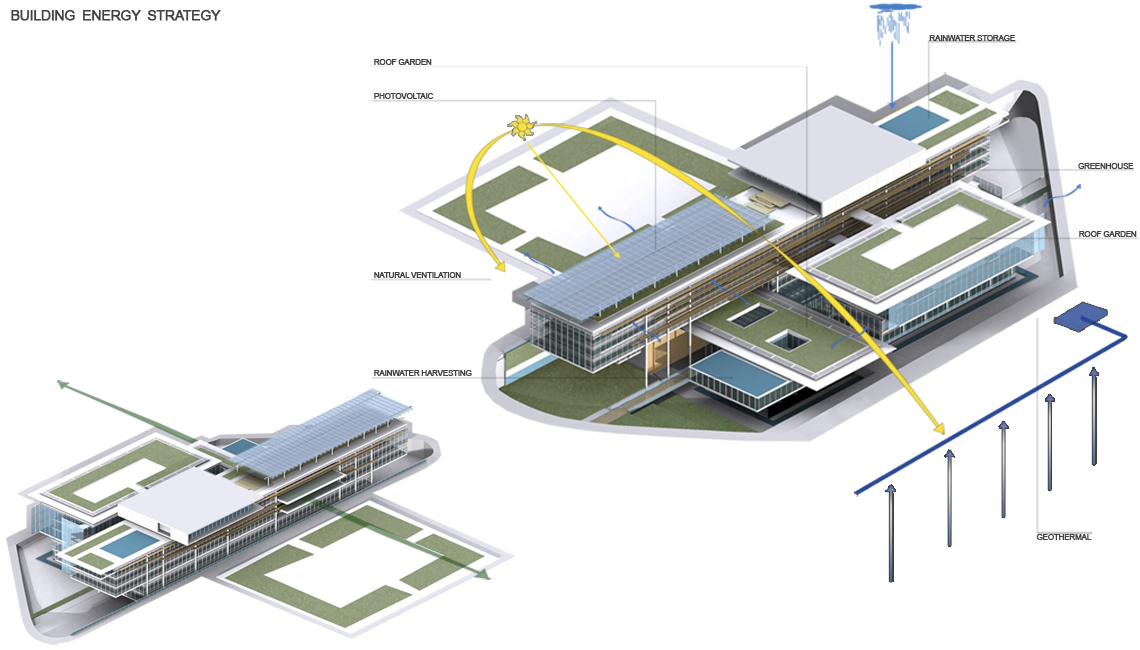 {/sliders}